Client Profile: Mark C. says he'll never be in debt again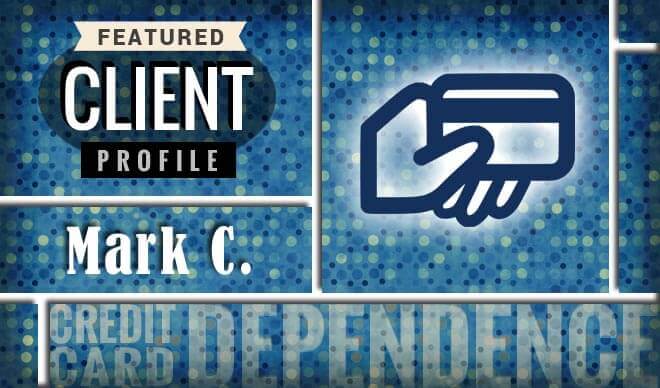 In 2004, Marc C. filed for bankruptcy. Fast forward to a couple years ago, and he was back in debt again. But he decided he couldn't ensure another bankruptcy, so he enrolled in a debt management program to pay off his debt, and swears it was one of the best decisions he's ever made.
"I probably had five or six credit cards, and I had rung up a lot of debt, close to $10,000 dollars," he discloses. "I was getting in over my head, so instead of filing for bankruptcy a second time, I decided to go a different avenue."
An avenue that led Mark to Consolidated Credit…
"The program is fantastic, and it does work," says Mark, who went through the program with his wife. "I could afford the payments each month, so that was a good deal. Everything worked out, and within four years, we had our debt paid off."
His debt burdens were gone and his credit score got a boost…
"It felt like a brick lifted off my shoulders," he rejoices. "I'm done and I don't have to worry about it. I want to be more responsible as far as what I use on these credit cards."
As a result of paying down his debt, Mark has repaired his credit and is doing everything to keep in good standing.
"Building up my credit is a good feeling," he says. "I have two jobs. Because I only have two credit cards right now, I'm able to make bigger payments on those cards and keep the balances down. Paying everything off has helped out considerably."
Getting into debt again is not an option. And the adage "cash is king" rules in Mark's household. Well, most of the time…
"When my wife and I go shopping, we're able to get what we want," he says. "We mostly use cash for purchases and only use those credit cards in an emergency, and that's it. I do not want to experience what we had gone through before."
Mark remembers that day back in 2013 when he and his wife prepared to mail in their final payment…
"I licked that envelope, put that stamp on, put that return address on there, and I said, 'Phew! This is fantastic'! I looked at my wife and said, 'You know what, we are done! We have paid off our debt! And we're going to be just fine now.'"
Mark says it's a great feeling getting that weight lifted off his shoulders. He looks at things in a much different light now because of the financial knowledge he gained on the debt management program. He is debt-free, his credit went up, he has gained back control of his finances, and life is a lot easier.
Mark credits his freedom from debt to Consolidated Credit and couldn't thank them enough. An accomplishment worth celebrating with his special lady…
"We just looked at each other first and foremost and I said, 'You know, let's do something to celebrate this.' So we went out to a nice dinner, came back home, relaxed and from there on its history.'"
Mark said it's nice to be able to put their debt woes behind them and go on with their lives without having to worry.
And if you're drowning in debt, Mark says…
"You don't have to go through it alone. Find a program such as Consolidated Credit's, and go through the program. Pay close attention as they explain the program to you, and you will discover how easy it is, how professional, and how personable they are. They were able to answer all my questions and we had no problems in going through the process."
Get that Brick off Your Shoulders
If credit card debt is weighing heavily on your mind and shoulders you don't have to carry that load alone. Do what Mark did and call Consolidated Credit for help. Our certified credit counselors are standing by to take your call. The call is free at 1-888-294-3130. Or to find out how much debt you're in, you can request a free Debt & Budget Analysis online.