Halloween Spending Hits Scary New Heights
Americans expected to spend a record $8.4 billion this year.
One-off expenses for holidays like Halloween often fall outside your budget and as a result, can end up on credit. So exactly what are Americans spending on this year for these record-high Halloween sales?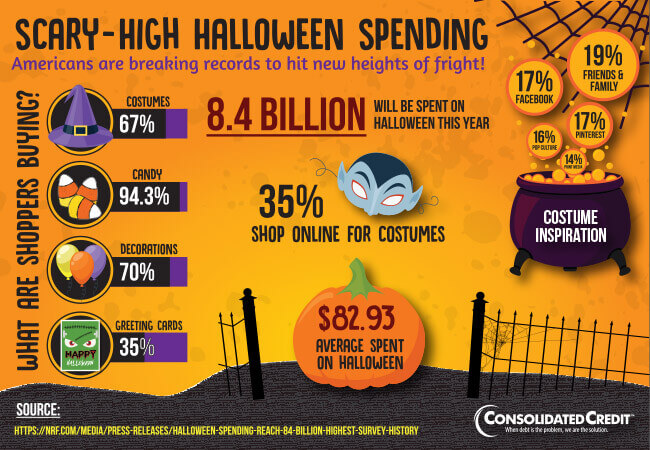 What does spending look like for each household?
The good news is that while Americans as a whole are hitting new records in Halloween spending, the per-household increase from last year to this year is only up $8.59. The average American household will only spend about $82.93 this year on Halloween freights in total.
The trouble comes if those extra charges are going on credit cards.
"Americans are already overburdened with credit card debt this year," says Gary Herman, President of Consolidated Credit. "The average indebted household is currently carrying a very scary $8,500 in debt. Adding anything to that amount is just making those credit card debt problems more monstrous."
The main challenge is that at a certain point, when high balances meet high interest rates, credit card debt can be almost impossible to pay off. That's why Consolidated Credit's own little monsters – The Debt Suckers – are duly named Hi-Rate and Hi-Pay. When they team up, even larger debt payments that are over the minimum requirement may barely make a debt. The debt can take years or even decades to pay off.
If you're struggling with scary-high credit card debt and you need help to get the Debt Suckers off your back, call Consolidated Credit today at 1-888-294-3130 or complete an online application to request a confidential debt analysis from a certified credit counselor at no charge.
Use this infographic
<a href="https://www.consolidatedcreditsolutions.org/infographics/halloween-spending-hits-scary-new-heights/" target="_blank"><img src="https://www.consolidatedcreditsolutions.org/wp-content/uploads/2017/04/scaryhalloweenspending_infographic.jpg" alt="Graphic displaying statistics for how Americans stack up for Halloween spending" class="img-responsive" /></a>