Last Minute Holiday Miracles
Buying holiday gifts at the last minute can really bust your budget at the end of the year and leave you with a serious holiday debt hangover. From rushed shipping charges to end-of-year markups, you don't want the last few gifts that you purchase this year to drive your budget into the red. To avoid problems with credit card debt, you need to get creative with these last minute gifts.
At Consolidated Credit we understand that while the holidays bring joy, they can also bring on significant stress for you. If holiday overspending has left you in a bind, you don't have to wait for the New Year to get back on track. Call us today at 1-888-294-3130 to speak with a certified credit counselor or take the first step online with a request for a Free Debt Analysis.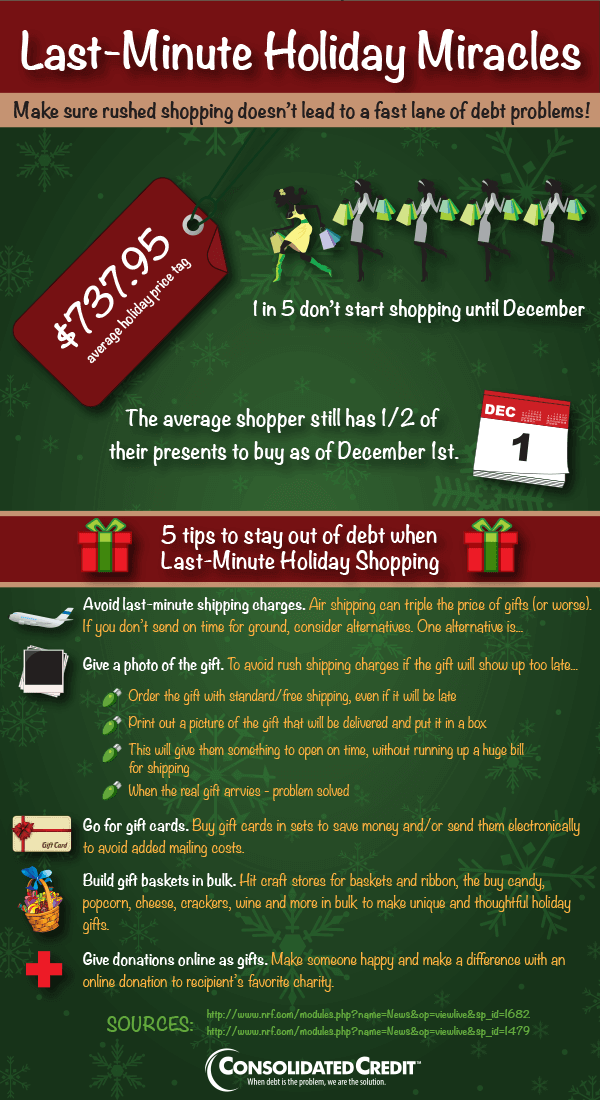 Use this infographic
<a href="https://www.consolidatedcreditsolutions.org/infographics/last-minute-holiday-shopping-miracles/" target="_blank"><img src="https://www.consolidatedcreditsolutions.org/wp-content/uploads/2017/04/last-minute-holiday-miracles.png" alt="Graphic displaying last minute holiday miracles" class="img-responsive" /></a>