Ho, Ho, Ho When Budgets are Low
Indebted families scale back to avoid taking on more holiday debt.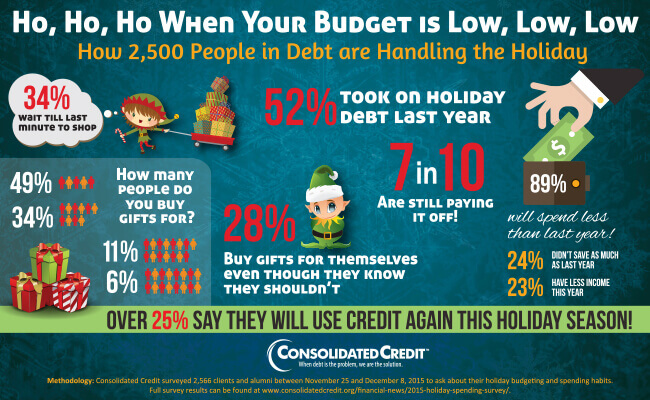 The holidays are hard on any budget, but that financial stress is compounded when the household is already facing challenges with debt. With that in mind, Consolidated Credit surveyed over 2,500 people who have reached out to them for help to see how they're doing at budgeting and spending this holiday season.
The results show that the majority of these families who have already stared down the hard road toward freedom from debt are scaling back this year in order to avoid adding to their financial stress. As a result, 89 percent plan to spend less this holiday season, doing everything from scale back on entertainment budgets to limiting the number of people to gift.
According to additional survey results, two in five indebted families (40 percent) will spend the 80 percent or more of their total holiday budget on gifts, with only the remaining 20 percent to cover things like entertainment and travel. These families who've already learned how burdensome credit card debt can be have found smart ways to avoid end-of-year debt. In fact, 23 percent have shopped throughout the year to avoid holiday debt here in December.
Avoid bad holiday money habits
The survey results did reveal a few financial behaviors that should land some indebted families on Santa's financially naughty list.
28% of respondents will self-gift this year
26% will rely at least partially on credit cards to pay for holiday purchases
34% wait until just before the holidays to shop
"If you're still spending money putting the final touches on your holiday plans, take a minute to really consider whether each last touch you make is really worth the debt you're likely to be taking on at this point in the shopping season," says April Lewis-Parks, Director of Community and Public Relations. "Put the cards away, stop spending and use the time you free up by not shopping to really enjoy the holiday season with your family."
Complete survey results
| Do you plan to spend more or less this year? | |
| --- | --- |
| More | 11.05% |
| Less | 88.95% |
| If you plan to spend MORE, why? | |
| --- | --- |
| The economy is better | 6.98% |
| My family grew | 25.97% |
| I have more income | 10.08% |
| Big year-end bonus | 3.88% |
| To make my family happy | 10.85% |
| I've been saving more | 17.05% |
| If you plan to spend LESS, why? | |
| --- | --- |
| The economy | 15.73% |
| I didn't save as much this year | 23.71% |
| I have less income | 23.47% |
| I'm doing a gift swap this year | 8.08% |
| I plan on making gifts this year | 6.57% |
| What's your total holiday budget? | |
| --- | --- |
| $0 – I don't do the holidays | 6.81% |
| $20-$100 | 15.81% |
| $101-$200 | 16.15% |
| $201-$300 | 15.64% |
| $301-$400 | 11.77% |
| $401-$500 | 12.36% |
| $501-$600 | 6.48% |
| $601-$700 | 3.41% |
| $701-$800 | 4.50% |
| More than $800 | 7.06% |
| What percentage will be used for gift giving? | |
| --- | --- |
| 0-20% | 18.51% |
| 21-30% | 7.40% |
| 31-40% | 3.89% |
| 41-50% | 6.85% |
| 51-60% | 5.54% |
| 61-70% | 5.71% |
| 71-80% | 11.24% |
| 81-100% | 40.87% |
| How many people are you shopping for? | |
| --- | --- |
| 1-5 | 48.77% |
| 6-10 | 33.50% |
| 11-15 | 11.42% |
| More than 15 | 6.30% |
| Did you incur debt last holiday season? | |
| --- | --- |
| Yes | 51.99% |
| No | 48.01% |
| If so, are you still paying off last year's debt? | |
| --- | --- |
| Yes | 70.73% |
| No | 29.27% |
| How do you plan to pay for the holidays? | |
| --- | --- |
| Cash/prepaid – I save throughout the year | 49.68% |
| Cash/prepaid – I use my year-end bonus | 27.39% |
| Credit | 25.80% |
| Gift cards / rewards | 18.01% |
| When do you do the bulk of your shopping? | |
| --- | --- |
| Year-round as items go on sale | 23.96% |
| Right after the holidays the year prior | 6.45% |
| Black Friday | 17.89% |
| Cyber Monday | 13.16% |
| Throughout November | 26.62% |
| Right before the holidays in December | 34.41% |
| Will you buy any gifts for yourself? | |
| --- | --- |
| Yes | 27.92% |
| No | 72.08% |
| How much of your budget will be used for entertaining? | |
| --- | --- |
| 0-20% | 75.62% |
| 21-30% | 15.75% |
| 31-40% | 3.45% |
| 41-50% | 2.55% |
| 51-60% | 1.29% |
| 61-70% | 0.47% |
| 71-80% | 0.52% |
| 81-100% | 0.35% |
| Will you travel this holiday season? | |
| --- | --- |
| Yes | 16.66% |
| No | 83.34% |
| If you're traveling, are you… | |
| --- | --- |
| Flying | 18.28% |
| Driving | 77.55% |
| Cruising | 1.57% |
| Taking public transit | 2.61% |
| How much of your budget will be used on travel? | |
| --- | --- |
| 0-20% | 76.82% |
| 21-40% | 14.58% |
| 41-60% | 5.21% |
| 61-80% | 2.08% |
| 81-100% | 1.30% |
Use this infographic
<a href="https://www.consolidatedcreditsolutions.org/infographics/ho-ho-ho-budgets-low/" target="_blank"><img src="https://www.consolidatedcreditsolutions.org/wp-content/uploads/2017/04/holidaysurvey_infograph.jpg" alt="Graphic displaying how indebted families scale back holiday budgets" class="img-responsive" /></a>