2016 Holiday Shopping Expectations
What we can expect out of the winter holiday shopping  season this year.
Each week, Consolidated Credit searches for financial research that can help you deal with your debt and budget. This week…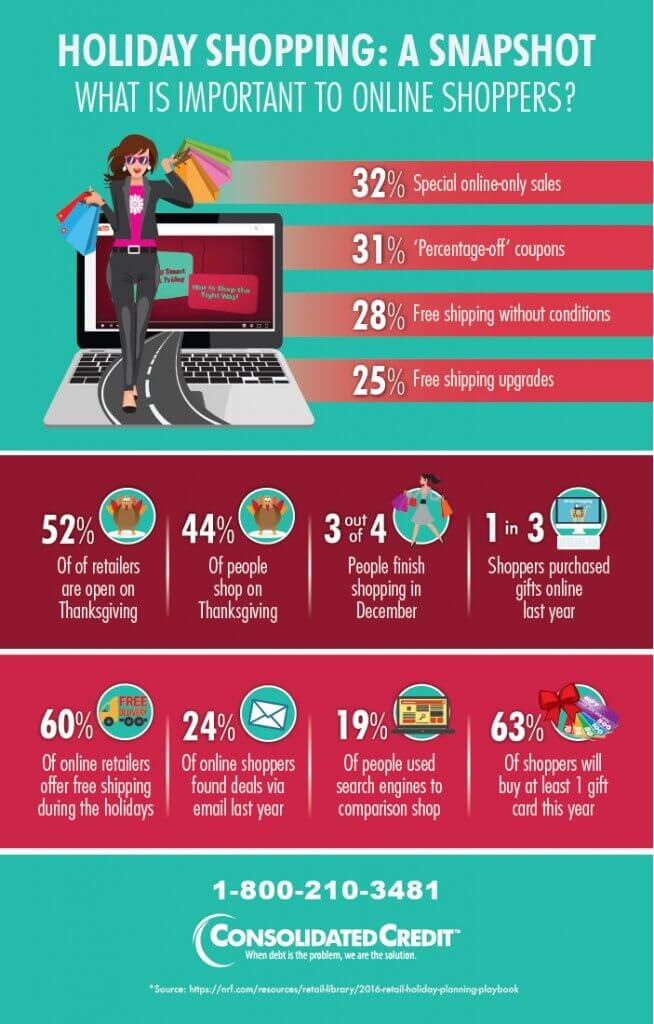 The interesting study
The National Retail Federation is the preeminent source of U.S. retail shopping data. Now they've released their 2nd annual Retail Holiday Planning Playbook to help retailers identify key trends. As a consumer, you can use this to help you strategize for a more frugal holiday.
The big result
If last year is any indication, this year we can expect to see records numbers of online sales. More than half of consumers increased the amount of holiday shopping they did in 2015.
Holiday sales increased by 3 percent in 2015 to $621.1 billion, and 7 in 10 retailers increased their overall revenue. Additionally, 81% of retailers saw an increase in online sales, compared to just over half seeing an increase in-store.
The fascinating details
Not only do consumers seem to be focusing more on online shopping, they're specifically increasing mobile usage.
Mobile sales, including phone and tablets, made up 30.4% of all online sales; that's compared to 25.9% in 2014
Retail purchases on smartphones accounted for 19.9% of sales in 2015, compared to 14% in in 2014
56% of holiday searches were conducted on a mobile device
Average transaction amounts were also higher using technology:

$114 was the average computer purchase
$89 was the average on tablets
$80 was the in-store average
$70 was the average smartphone purchase price

68% of retailers reported their highest sales revenue on record for Black Friday 2015
While Cyber Monday has the highest online sales overall, 1 in 4 retailers reported their Black Friday online sales total was higher
What's more, retailers are taking this increased focus on online and mobile shopping to heart. You can expect to see even more marketing targeting you online and on your social networks this year.
84% of retailers want to increase their conversion rate – i.e. they want to increase the number of users who eventually buy something once they land on a website.
71% want to increase traffic, meaning they want to drive more users to their website.
They will also tailor their strategies to what customers consider as the most important online shopping factors:
47% of consumers say free shipping in one of the top factors in purchasing decisions for the holiday season

56% of shoppers who abandoned a cart did so because shopping costs were more than expected
45% abandoned their cart because the order wasn't big enough to qualify for free shipping

85% of online shoppers are willing to wait 5 days for delivery
Buy online and pick up in store offers are also on the rise – these types of sales increased from 57% to 68% from summer to Holiday 2015
88% of shoppers now trust online reviews as much as personal recommendations
What you can do
Expect to be targeted by really tempting online advertising anytime you log on to a computer or mobile device before the end of the year. And understand that online advertising is smart. Retailers want to hit as many "touchpoints" as possible in order to drive you to purchase.
You'll notice that if you go to a particular online store, then the ads on your search engine and other webpages you visit are likely to be promoting whatever you searched for on that site. The ads on your social networks are likely to change, too. This is done strategically with the idea that if you saw an item and considered it, putting it in front of you several more times will increase the likelihood that you'll go back and purchase it.
If you understand this type of retail advertising strategy, you can temper that temptation to make sure you stay on budget this year. Follow these tips to be successful:
Plan your holiday budget as you normally would.
Pay particular attention to gifts, especially those with a higher price tag.
Start looking up those items online and comparison shop for the best price.
Sign up for email newsletters of sales and follow your favorite stores on social networks.
This strategy will help you take note of sales on all of the items on your list.
When you see a particularly good price on an item, click through the ad and purchase it.
Also make sure to take note of coupon codes and exclusive offers made to social followers and email recipients.
Use this infographic
<a href="https://www.consolidatedcreditsolutions.org/infographics/2016-holiday-shopping-expectations/" target="_blank"><img src="https://www.consolidatedcreditsolutions.org/wp-content/uploads/2017/04/holidayshppg2016-654x1024.jpg" alt="Graphic displaying statistics on 2016 holiday shopping expectations" class="img-responsive" /></a>