Client Profile: Matilde C.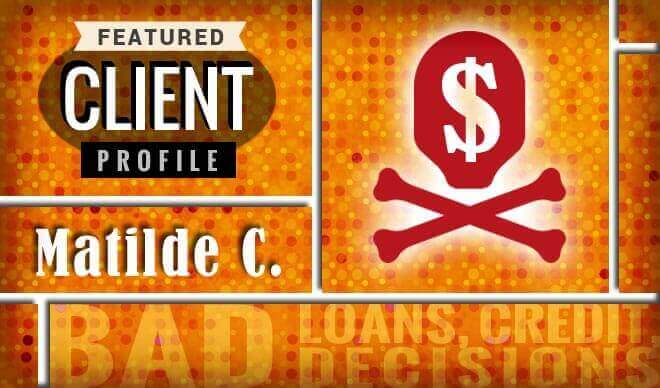 How a woman paid off $80,000 in credit card debt in less than 5 years
In 2008, Matilde and her husband were admittedly buying "crap" on their credit cards, but it was OK – with two salaries, they could afford it. They weren't saving anything, however. Later that year, her husband hurt his back and could no longer work.
Down to one salary, Matilde ran up her six credit cards just to pay the bills – and didn't tell her husband. Ironically, Matilde worked as a manager in the psychology department at the University of Miami. She knew what she was doing was called "denial," but she was worried about her husband.
"He was very depressed, and I didn't want him to worry about the bills," she remembers. "Things were getting crazy. I didn't want to tell him because I figured it would hurt him or affect him more. So for three years, I paid the utilities and bills on my credit cards and paid the credit cards with my paycheck."
Matilde's plan backfired – her credit card debt ballooned to $80,000. Finally, she consulted Consolidated Credit. This year, she became debt-free. Only 4 percent of Consolidated Credit customers have more than $50,000 in debt, so Matilde's accomplishment is especially noteworthy. How did she do it?
While Matilde was protecting her husband from the stress of debt, she was doubling on herself…
"I was so financially strapped," she says. "You think, 'What if something happens or my kids need something and I can't pay for it?' That was pretty intense and stressing the heck out of me. I was on the edge there for a little while."
She finally decided to seek help…
"When I was at the end of my rope, when I thought, 'I can't continue to do this, I no longer can meet my financial obligations' – I called the Employee Assistance Program at the University of Miami. They recommended Consolidated Credit."
Her six credit card payments were consolidated into one, and her interest rates were reduced…
"You guys were awesome! Consolidated reduced the program. The only debt I will have is my daughter's braces. But I told her, 'Let me be debt free for about a month first!'"
At 51, she started thinking about her golden years for the first time…
"I was more focused on getting out of trouble and I wasn't even thinking about that," Matilde says about retirement. "Now that I'm debt free, I'm focusing on delaying my pleasure to enjoy things later on. I'm still learning how to use money wisely to set myself up, so when I retire I don't have to depend on my children. Now that I'm in a place where I can actually pay myself instead of the credit cards, I'm starting to focus on opening a Roth IRA account."
She encourages folks in debt to seek help…
"Once you take those first few steps into that unknown, the sense of dread that you think will never end, ends. Even though it's a long road, every month is one step closer. And before you know it, you're there. I remember thinking. 'This is never going to end.' Then I saw the statements and the balances going down, it was really happening!"
That final payment brought relief and her husband put a ring on it – again…
"I felt ecstatic! That sense of relief is the best feeling," she rejoices. "My husband was hysterical, he was so happy. Soon after that, he gave me an anniversary diamond ring. He made me close my eyes, got on his knees and asked me to marry him again. He said, 'Honey you did it, I'm so proud of you.'"
Matilde's debts are gone, and her confidence has returned…
"In the beginning, there was a sense of shame. I was mad at myself for creating that mess. It's no longer grim for me and my family. I even started exercising. I now have a future to look forward to. I'm excited about it, and I want to be healthy for it."
Matilde is grateful to the University of Miami and to Consolidated Credit…
"I called the employee assistance program, and I thanked them. I wanted them to know that they did help me. I told them it worked, I'm in a much better place, and I will continue to refer people to Consolidated Credit. The letter that I got from you guys congratulating us for our hard work, I told my husband we have to frame it. Thank you so much Consolidated Credit for providing the support we needed to reach our goals."
Is debt ruining your self-image? Don't let it anymore!
Debt can crush your self-confidence. Matilde paid off her debts and restored her self-esteem. You can, too. If you're in debt, give Consolidated Credit a call and allow our certified credit counselors to help you. The call is free, the consultation is free. Dial 1-888-294-3130 or request our free Debt Analysis online.