Client Profile: David D.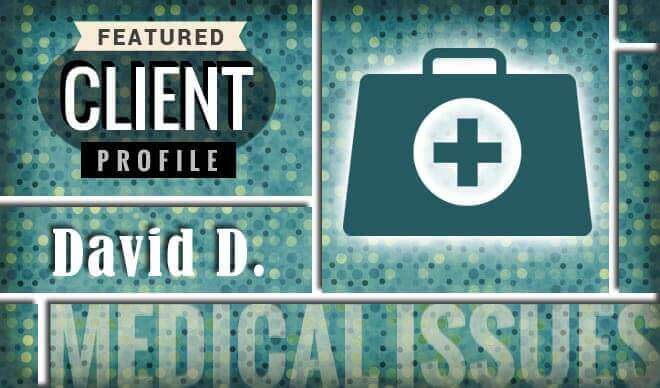 On a mission to eliminate post-retirement debt.
After 23 years as an Air Force maintenance crew chief, David D. retired. He then taught for 17 years at the New Mexico Military Institute and retired – for five years. David came out of retirement a second time and to this day still teaches at the institute as a part-time instructor.
Even so, at 71 years old, he's only now climbing out of $47,000 in credit card debt.
Everything was fine until a few years ago, when David's wife became ill and she had to quit her job. With only one income, they resorted to living on credit cards – 13 of them.
His debts only got worse when he fell for a scam. A company that offered to file for bankruptcy for him stole hundreds of dollars from him. That's when he called Consolidated Credit.
The credit card companies loved David and apparently he loved them, too. That love got him into trouble…
"We had such good credit that the companies were telling us, 'We'll send you this and we'll send you that,' and we were just taking it," he recalls." We had 13 credit cards and a lot of them were maxed out. Next thing I know, wow, I'm in deep trouble."
They bought anything whenever they wanted it…
"We were just spending on general merchandise. We were not paying attention to what we were doing," he says. "If we needed a TV, we'd go get a TV. We needed two generators for the RV, so of course, what do you do? You pull out the credit cards and spend $2,000 – and boom there it is."
When his wife got sick and they needed credit cards to live on, David knew he had to get help…
"Before I got in touch with Consolidated Credit, another company had gotten in touch with me," he says. "We sent them $1,000, and that company was going to send out letters basically informing my creditors that we might be filing for bankruptcy. We were going to stop making the payments and all of a sudden, we started getting calls, but that company said, 'Just ignore them and tell them that you're working with us.'"
The collection calls didn't stop…
"After about two weeks of working with that company and still getting calls from debt collectors, 'I said that's enough, I can't take this anymore.' My blood pressure went up and I was literally throwing up. It was not a pretty picture."
His son was concerned about his health and directed him to Consolidated Credit…
"I was talking to my son and he said, 'Dad, get a hold of Consolidated Credit. A friend of mine uses these people. Call them and they'll work with you. They'll get your interest reduced and you can pay the bills off. But you have to get rid of all the credit cards, because all of them will be closed.' That's when I called."
David didn't mind giving up the credit cards, but his wife was nervous about it…
"My wife was apprehensive about the program because she saw what I was going through with the other company," he says. "They sent me the paperwork, and it was simple to fill out. We qualified, and it's been smooth sailing ever since. I don't even think about it anymore. I only think of the $1,000 I'll put in the bank for savings when I'm done."
That call to Consolidated Credit was a relief in more ways than one…
"I was just living payday to payday. We really couldn't do a whole lot," he says. "But since getting on Consolidated Credit's debt management program, things are getting paid off. My interest rates were as high as 26 percent. Some lowered to zero percent and 2 percent and will stay that way as long as we remain on the program."
David plans to stay the course of the program and has gained some financial wisdom…
"We've learned to budget and watch what we spend," he says. "If we want to go on a trip, we save until we have, then we go. We found out we can live without credit cards. I can sleep at night."
Once they're done, their monthly savings will be their celebration…
"We should be done in 23 months," he says. "Then that extra money goes right into our savings. We will keep paying cash for everything. We will keep watching what we're spending on and live within our means."
David will also tell the world of the freedom he's achieved by not taking the bankruptcy route…
"It's an absolutely great program. We're really happy with the service," he rejoices. "If I know of anyone going through a similar problem, I no doubt will tell them get a hold of you guys and work it out. I have no problem telling anyone how Consolidated Credit has helped us compared to what I almost got into prior to contacting you."
David thanks the company that saved him…
"Calling Consolidated Credit was the best thing we could have done. Thank you Consolidated Credit for helping me get my finances in order."
And, Consolidated Credit thanks you, David, for your service in the Armed Forces…
Consolidated Credit offer specialized assistance for military service members and veterans struggling with financial issues. The burdens of debt can break the toughest among us. If your debt woes are making your stomach turn or raising your blood pressure, it's time to seek help from a reputable financial professional or institution. Having the pressures of debt weighing on the mind can take a toll on our physical and emotional health regardless of who you are. As in David's case, one call to Consolidated Credit rendered relief. You too can get some relief; you too deserve to be free.
Call us for free at 1-888-294-3130. Our certified credit counselors will be happy to get you started. Or, to find out how much debt you're in request a free Debt & Budget Analysis online.