Client Profile: Bilkisu M.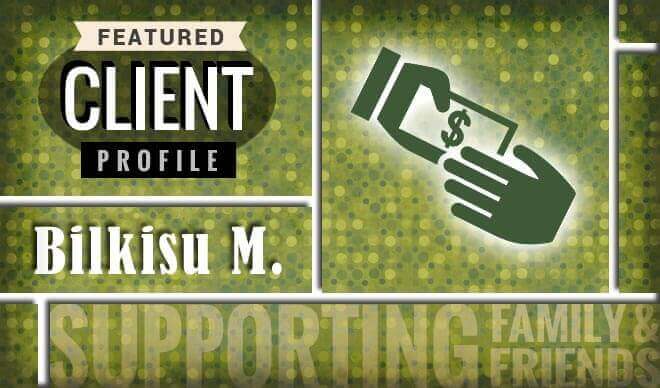 When Bilkisu had to leave her home in Pennsylvania and return to Nigeria for a family emergency, it created an emergency of her own.
"I had too many obligations. I had family problems back at home in Nigeria," she says. "When I got back, I had to refinance my mortgage, consolidate my credit cards and I had to start all over. I went on the computer to find out if there was anyone who could help me. I was in over my head."
As desperate as Bilkisu was for help, she wouldn't just take any company's word for it. Consolidated Credit's A+ rating won her trust…
"There were many companies out there, but my counselor Luis put me at ease," she says. "He said, 'Check out Consolidated Credit with the Better Business Bureau,' and I did. I also liked the fact that he listened. He was really fast at arriving at a solution to my problems. He helped me streamline my budget, my finances, and advised me as to what I had to do."
Bilkisu got help and was pleasantly surprised how quickly Consolidated Credit was able to get her financial chaos under control…
"I don't know what you guys did, but it really, really, really surprised me," she says. "Luis told me that I would be debt-free in two or three years. I can't believe how fast Luis was at arriving at a solution to my problems. You were able to bring down my finance charges and interest rates from 39 percent to 6 percent. I'm very relieved."
And, thanks to the debt management program, Bilkisu understands the importance of budgeting…
"You taught me how to manage my finances," she rejoices. "And that I should budget and check where my money is going and how I'm spending it. I have utmost respect for your company, counselors and customer service agents. I thank you guys so much."
And to those walking in Bilkisu's shoes, she advises…
"Clean up! Start from the beginning and make sure you get advice, budgeting advice," she says. "I recommend the program to everybody. There are some companies who lie about how they can help you. I like the fact that Consolidated Credit is an honest company and offer very good help."
Need help bringing order to your financial disorder?
You can get the same help as Bilkisu. If you need help creating a budget or help streamlining your finances, our certified credit counselors are standing by to help you. Call us at 1-888-294-3130. Or, to find out how much debt you're in, request a free Debt & Budget Analysis online.