How to Score Affordable Car Rentals for Your Next Trip
[On-screen text] Be Penny Wise, Not Pound Foolish: Saving Money When You Travel
[Narrator] Being Penny Wise when you travel ensures you don't bring home debt. And Penny Wise knows car rentals offer good opportunities to save.
[On-screen text] Tips for Saving on Rental Cars
[Narrator] If you're Pound Foolish, you automatically upgrade to bigger, better cars. It's only a few dollars difference, right? Wrong. Penny Wise knows that a few dollars can really add up. Plus, high-end cars usually guzzle more gas. So, Penny Wise only rents as much car as they need.
[Narrator] They also ask about taxes and fees, since those add to the cost. But Penny Wise knows too-good-to-be-true deals are usually just that…  and they check companies before they rent from them. They also understand refund and cancellation policies in advance.
[Narrator] For more great tips visit ConsolidatedCredit.org.
[On-screen text] Consolidated Credit: When debt is the problem, we are the solution. Call 1-888-995-0737.
More tips and tricks for renting cars without breaking your vacation bank.
Tip No. 1: Understand second driver policies
Most places will charge you if they find out that you allowed a second driver to get behind the wheel. So, if you want to share driving duties on your trip, you should ask about these policies in advance. If there is a charge for another driver, consider if it's worth the added cost. Just remember that if you try to fudge it and get caught, it can lead to penalties.
The same is true for other policies. If the car is no smoking, you could incur fees for cleaning if they think that you smoked in the vehicle.
Tip No. 2: Don't double up on insurance
Car rental companies always offer insurance in case you get into an accident or debt the vehicle while parking. But it's not always in your best interest to take it. The reason? You may already be covered through another means.
There are two ways that you could be covered without buying insurance through the rental car provider:
Your own car insurance policy may offer coverage for driving rental cars.
Your credit card may offer a collision damage waiver to cover deductibles.
If either of those are true, then you probably don't need the insurance the rental company offers. You can skip it and save some money. Regardless of which coverage you use, always review the policy carefully to know what's covered and what's not.
Tip No. 3: Consider gas consumption before you hit the road
When it comes to fueling up a rental car, you usually have two options:
You buy a discounted tank of gas from the company before you hit the road
You agree to cover any refueling charges after the fact
Which option you use really depends on your driving needs during the trip. If you're planning on driving a considerable distance away from the airport on your trip or you'll be hitting a lot of different places in different directions, it makes sense to get the full discounted tank. However, if you only plan to drive to the hotel and back again, then a full tank isn't worth it. Instead, you should skip the discounted gas and just fill up at a station near the airport.
Additional Resources: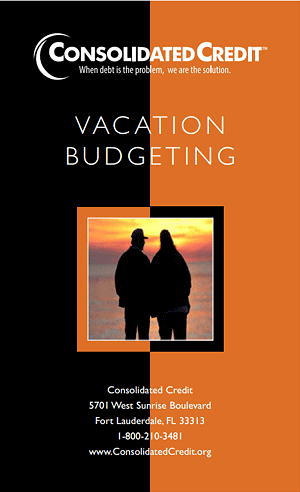 Everyone needs a break now and then. But when your vacation leaves you with a stack of bills you can't pay, it's hardly relaxing! Next time plan a vacation that will leave you with good memories instead of debt. This guide gives you our roadmap to plan a vacation that won't break the budget.
| | |
| --- | --- |
| Have exorbitant car rental costs turned into high interest rate credit card debt? We can help! Talk to a certified credit counselor for a free debt and budget analysis | Get Started |